Alumni & Career Outcomes
Featured Alumni
Meet featured NUIN PhD program alumni and hear what they're doing with their degrees.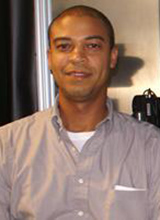 Zayd Khaliq, PhD
Thesis lab and Department: Indira Raman, Department of Neurobiology
Matriculation year: 2000
Graduation year: 2006
Current full position title: Senior Investigator
Employer/Company/Institution: NINDS/NIH Intramural Program
After NUIN Afternoons
After NUIN Afternoons is a seminar series organized by Indira Raman, PhD, Bill and Gayle Cook Professor of Neurobiology. It invites NUIN alum to speak to current students and postdocs about their post-graduate careers outside academic research. The 2020-2021 academic year featured the following NUIN alumni:
Tess Aman, Associate Scientist, Novo Nordisk
Mark Benton, Senior Director, Clinical Development Scientist, CRISPR Therapeutics
Sonia Bhangoo, Senior Risk Management Specialist, Baxter Healthcare
Garry Cooper, CEO/Co-founder of Rheaply
Lishu Duan, Principal research scientist
D'Anne Duncan, Assistant Dean for Diversity and Learner Success
James Ellis, software engineer
Karrie Fitzpatrick, Research Manager
Shanti Frausto, Senior Medical Scientist Liaison
Emi Giannella, Director of Research - Advertising and Marketing Data Science Team, Pandora
Tim Jarsky, Senior Manager and Project Lead, Allen Institute for Brain Science
Sharon Low, Scientific Review Officer
Rose-Anne Meissner, Freelance STEM Tutor and Writer
Cheryl Park, Instructor + Internship advisor/coordinator Northeastern Illinois University
Rashmi Sarnaik, Scientific Editor at Neuron
Melissa Snyder, Neuroscientist, Ottawa Memory Clinic 
Michael Tennekoon, Scientific Program Manager NINDS
Hayley White, Technical Specialist (patent law)
Yeechan Wu, Applications Scientist and Sales
Sarina Yang, Asst. Prof. / Director of Toxicology and Therapeutic Drug Monitoring / Asst. Director of Central Laboratory, Dept. of Pathology & Laboratory Medicine
Nan Zheng, Principal Scientist, Nocion Therapeutics
Career Outcomes
These charts represent the current positions of NUIN graduates at three points post-graduation (charts were generated from data in August 2020). NUIN graduates primarily enter postdoctoral fellowship positions post-graduation (or return to medical school in the case of MSTP students) and within six to eight years have diversified into a number of different academic and non-academic careers.